Thank you for visiting my website and taking the time to sign the guestbook.
Please visit again soon!

To order signed copy of Reflections Of Southbreeze
Click here!
Add a message : Reflections of Southbreeze
There are now 497 messages in our guestbook.
<<< 1 2 3 4 5 6 7 8 9 10 11 12 13 14 15 16 17 18 19 20 >>>
Viewing messages 276 to 300.

Message 276 - June |
|
Dear Southbreeze,
What a beautiful poem. Thank you so much. I just love your pages.
Happy New Year to you and your loved ones.
love ya,



The page visited?: The Poem for your subscribers

1 January 2008 - South Carolina
Message 277 - John |
|
MERRY CHRISTMAS South.
I wish for you good health, good friends and good times in the new year.
Hugs, John

24 December 2007 - Shenandoah Valley, Virginia
Message 278 - Jo Worley |
I just happened on your web site
Very pretty....God Bless You

24 December 2007 - Breckenridge, Texas....USA
Message 279 - Beauty |
|
I love this! I think I've been on your mailing list before. I'm having problems sending email right now, but not with receiving (due to a nationwide outage with our server?
This is beautiful!

The page visited?: Holiday/Christmas

23 December 2007 - Virginia
Message 280 - Shy |
|
Dear South,
Oh what beautiful pages you have shared in your Christmas update. I wish you and your family a very merry Christmas and a Happy New Year ! !

Love you, Shy


20 December 2007 - Greenville, North Carolina, USA
Message 281 - ivonne calrson maldonado |
|
LOVELY, THANK YOU,in his love, Ivonne

The page visited?: reflections

20 December 2007 - naples, florida
Message 282 - Dark Blue Knight ~ Eddie |
|
Hello Evelyn,

Thank you for your pages, as always it is a real pleasure to call by and read your wonderful words. I have never been disappointed when I have called by and I do enjoy going back and reading some of your previous pages as well. Lovely to read the beautiful poem dedicated to Rosie once again, she was a very special person, and I still remember the mails we shared as she told me of her endeavours.

Well, here we are with another year almost gone and we prepare to celebrate the birth of our Lord on the wonderful day that is Christmas. It really is a very special day and I hope you have a wonderful day in whatever way you have planned.

Thank you for your continued friendship which I treasure dearly and I pray that it will continue on throughout the years until we are called home.

My wish for you is to have a very happy and Blessed Christmas and may the New Year be filled with peace, love and happiness.

God bless you my friend.


Eddie




The page visited?: Latest Updates

18 December 2007 - Brisbane, Australia
Message 283 - Melva |
|
Hello Sweet Friend,
I am stopping by to wish you and your family a blessed Christmas, and may 2008 bring new and wonderful joys to you!
Thank you for the strong witness of Jesus that your beautiful site brings! May your life be filled with His Peace and Love through the coming year!
I am thankful for your precious friendship which I treasure...God bless you dear heart!
I love you,
Melva




18 December 2007 - USA
Message 284 - June |
|
Dear South,
Your pages are amazing. I love each and every one of them. I would like to wish you and yours a very
Merry Christmas.


15 December 2007 - born in Pa. raised in N.J. living in South Carolina
Message 285 - MICHELLE BOTTENHORN |
THAT WAS VERY BEAUTIFUL.
The page visited?: CHRISTMAS WITH JESUS

12 December 2007 - LONGVIEW,WA
Message 286 - karen |
|
Dear South,
Always a day late (or more) and a dollar short (or much more)!!!!!!!!
I love the Christmas pages, but the one that brought much needed and very healing tears to my eyes was 'Christmas With Jesus'~~~~
How I miss those who have gone before, only me and my sister left from our large family, and my hubby, too~~~~but what joy I have in knowing how many will be there to lead the way to Jesus~~~and to worship with me on that Heavenly day~~~~Your words brought all these thoughts into sharp focus.
All your pages are beautiful, Southbreeze~~~what an artist you are.
God Bless and remember........
U R Loved.
The page visited?: Christmas With Jesus, Christmas pages, Poet's Desk

12 December 2007 - Iowa
Message 287 - Elaine Mick |
Ilove your site. I love poetry and write some myself.
The page visited?: Holidays and Inspirational

7 December 2007 - Mt. Airy, NC
Message 288 - Dark Blue Knight ~ Eddie |
|
Hello Evelyn,

I am so sorry in being late to view your latest pages, but it seems like time just flies by and you never have enough of it to do everything you want.

I loved your two Thanksgiving poems, as always they were simply wonderful which is what I have come to expect when I visit and read your writings.

I hope all is better for you, I know you have been having some problems so pray that they are soon over.

Your pages are beautiful as always and you always choose the most stunning graphics to showcase your wonderful words. It is such a pleasure to come by as I know I will never be disappointed.

I will be sending out one more updates mail this year and I hope you will have time to read some of those. I will then be taking a break until January.

In case I do not get here before, I would like to wish you a very Happy and Blessed Christmas and may the light of the Lord shine on you throughout 2008.

God bless you always my friend.

Eddie
The page visited?: Thanksgiving Poems

28 November 2007 - Brisbane, Australia
Message 289 - Terry |
Click on Pumpkin Pie

PUMPKIN PIE

22 November 2007 - Alabama
Message 290 - karen |
|
What can I say, South, seems I'm always a day late and a dollar short~~~LOL. But what a blessing it is to read your Thanksgiving poems the morning after Thanksgiving~~~and realize they are a prayer for every day that we live!!! You write so beautifully, South, your words touch my soul.
Thank you for the privilege of being among the Poet's Desk writers~~~
I am humbled. Hope you and your family had a wonderful Thanksgiving. God Bless and remember...................
U R Loved.
The page visited?: Thanksgiving Poetry

23 November 2007 - Iowa
Message 291 - Joellen |
This is a wonderful site. Just what I needed after a hectic day at work! Thank you and thanks Sassy for sending it to me.

23 November 2007 - Florida
Message 292 - John |
|
Happy Thanksgiving South!
Just had to stop by to wish you and yours a most happy Thanksgiving. May your Thanksgiving be blessed and filled with love.
God Bless,
John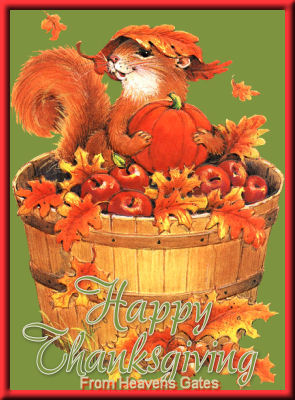 22 November 2007 - Shenandoah Valley, Virginia
Message 293 - Jack Suconik |
|
.


Not here to praise of criticize, but to learn more abut the
world in my quest for justice for animals.
The page visited?: 1-2

21 November 2007 - Elmhurst Il USA
Message 294 - Joan |
|
Just stopping by to wish you a very HAPPY THANKSGIVING!!!!! Hugs, Joan
The page visited?: Several

21 November 2007 - Ontario, Canada
Message 295 - Andrea/Kentucky_Lady4 |
|
Evelyn,
From our home to yours, have a very HAPPY THANKSGIVING!!
God bless!!
The page visited?: Several...

21 November 2007 - KY, USA
Message 296 - Dark Blue Knight ~ Eddie |
|
Just calling by to wish you a Happy Thanksgiving.

Although we do not celebrate Thanksgiving in Australia I do know it is a very important day for you as you celebrate with your family.

May the Lord bless you as you give thanks for all His goodness and may He watch over you always.

Happy Thanksgiving.

Eddie


20 November 2007 - Brisbane, Australia
Message 297 - Dave Allen Kelly |
Thanks Dear South for more beautiful pages. You are a true gem.
The page visited?: all

15 November 2007 - USA
Message 298 - Dan |
Representative Needed

Commodity representative needed,contact us to be our representative in America, Canada, South and Central America. A generous commission can be offered to you if you accept our offer. Our product is the best in global market at an affordable price in commodity market world wide. You can expect to earn in excess of $50,000 annually. We provide the leads, training and home office support.

Our company provides the product direct to our numerous customers in America. We shall do the selling and will offer you opportunity for immediate compensation as to receive payments from our customers in America. If you would like to join our successful international team, email: director_mkt@consultant.com

Easy job, flexible schedule, even works within your existing job.
Friendly and results oriented staff with large opportunity for growth.

Regards,

Mr. Dan West
Director, International Sales


15 November 2007
Message 299 - Dark Blue Knight ~ Eddie |
|
Hello Evelyn,

Thank you for your updates which are always a pleasure to receive and an even greater pleasure to visit. You do have a very special and unique talent with your words and I still say that you are one of the best writers I have read.

I think we all dread the day when our children begin to grow up and go out on their own. Your "Homecoming Dance" says a lot about those feelings. We let them go but we anxiously await their return letting them know that we love them dearly.

Really enjoyed "My First Kiss". I think we all went through that point and thought that we had found that special someone and then they are gone from our lives. As the years roll by we wonder if they even remember us or that special moment we shared so many years ago. I know I think that thought sometimes.

"I Had A Feeling". What beautiful words about that very special bond of friendship. Friends are more than someone we know, they are someone special with whom we can share and trust so many things.

"Do You Love Me" is so sad, but also is so true in many ways. For some reason one just stops loving and the other is left alone to go through life with a love that is not returned.

What a lovely poem to end this updates mail with – "Do You Know?". I really did enjoy this poem and its lovely simple message shines so easily from the words.

Thank you my friend for your very special talent that you share with us all.

I know that it will soon be Thanksgiving for you so I do hope that you have a wonderful time with your family on this special day.

God bless you always.

Eddie
The page visited?: Latest Updates

14 November 2007 - Brisbane, Australia
Message 300 - Joyce Ann Geyer |
|
Hi South: Wow! All of your lovely poems are so heartfelt. "Homecoming Dance," is a real beauty. "First Kiss," a real treasure! "I Had Feeling," and "Do You Love Me," gorgeous!
Thank you for your updates.


I am now cancer free, and "I Praise The Lord." It took two years, but I am so grateful to Jesus!
Thank you also for all prayers.
Lovingly,
Joyce




The page visited?: Mentioned above

10 November 2007 - West Seneca, NY USA

<<< 1 2 3 4 5 6 7 8 9 10 11 12 13 14 15 16 17 18 19 20 >>>
Book installed by Jimmy