Thank you for visiting my website and taking the time to sign the guestbook.
Please visit again soon!

To order signed copy of Reflections Of Southbreeze
Click here!
Add a message : Reflections of Southbreeze
There are now 497 messages in our guestbook.
<<< 1 2 3 4 5 6 7 8 9 10 11 12 13 14 15 16 17 18 19 20 >>>
Viewing messages 251 to 275.

Message 251 - Andrea/Kentucky_Lady4 |
|
Evelyn,
Visits here area always heart warming and it is an honor to have you as a dear friend.

Wishing you and yours a very Happy Valentine's Day!! God bless each of you!!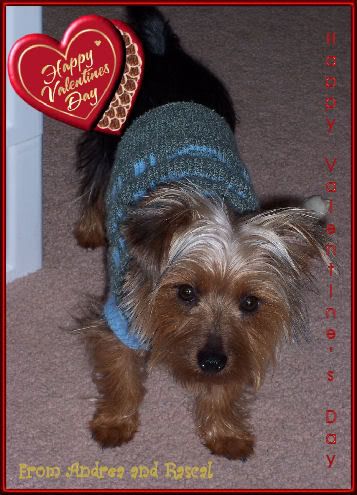 The page visited?: Several...

14 February 2008 - KY, USA
Message 252 - MARY LEE CROWLEY |
DEAR SOUTH YOUR VALENTINES DAY PAGE WAS SO AWESOME AND VERY MUCH LOVED. HAPPY VALENTINES DAY MOM SO SO BEAUTIFUL. WILL RETURN WHEN I GET BACK. GODS BLESSINGS ALWAYS AND HAPPY VALENTINES DAY ALSO BEARHUGS
The page visited?: HAPPY VALENTINES DAY MOM

13 February 2008 - NORTH PORT FL
Message 253 - Melva |
|
Hi my Sweet Friend,
Just stopping by to wish you a special Valentine's Day filled with all kind of blessings and 'goodies' :)
Love you,
Melva






12 February 2008
Message 254 - Joyce Ann Geyer |
|
Hello South: Wow! What beautiful poetry for Valentine's Day. Just awesome! Thank you for your email, and may you and yours be blessed with love, caring and sharing this Holiday!
Love,


The page visited?: many from your newsletter

6 February 2008 - West Seneca, NY USA
Message 255 - Ann Marie Fisher |
My Dear Friend Evelyn, What a great joy it is to come visit with you on your site. I loved all of the Valentine poems but my favorite was, "He's Still My Sunshine" Since we are dog lovers, who could write a more beautiful love story about a pet then you. Hug "Sam" for me please.
The page visited?: Last update

6 February 2008 - Alabama, USA
Message 256 - Dave Allen Kelly |
Oh, South, how that sounds so like me when I was younger. You have created beauty with the stroke of the keys once again.
My heart thanks you.
Love,
Kelly

5 February 2008 - Michigan
Message 257 - Marian |
|
Hello Evelyn,
Have not been on the net so much these days but paying a long overdue visit to your site and enjoyed an hour here. Your poems are the kind which can be read often and one still enjoys them all. I hope that you have a very Happy 2008 and look forward to all of your new updates.
Much love
Marian
The page visited?: New Years and many others

13 January 2008 - England
Message 258 - Dark Blue Knight ~ Eddie |
|
Hello Evelyn,

Thank you for your mail and even a greater thank you for your continued friendship. It is always very special to come by and visit your wonderful pages and I know I will never be disappointed. Your writings are always wonderful and you select the most beautiful graphics and music to compliment your words.

Your special pages written for all your friends are all really wonderful and I am honoured to think that I am included amongst those who call you a very dear friend. No matter where the New Year may lead us, we will go where the Father wishes and I do believe that our friendships will continue. Let us all be led by the light that shines on us from our heavenly Father so that we nay do His will and continue to give praise to Him.

I do hope you had a wonderful Christmas and that it was something special for you. I also wish for you in 2008 a New Year that is filled with much peace, love and happiness.

God bless you always my friend.

Eddie
The page visited?: Updates Pages Jan 1st

7 January 2008 - Brisbane, Australia
Message 259 - sharon |
|
i love your site

3 January 2008 - united states
Message 260 - Ann Duren |
|
I am a new friend. However, this seemed like a Godly site to me and this is what life is all about. Serving our Father daily in our lives! May God bless you and yours!!! May this be the most wonderful year of all!!! Because of His Blood, Ann
The page visited?: Just surfing for Christian sites

1 January 2008 - Nashville, Ga.
Message 261 - dianne of rochester ny |
beautiful site , thank you

2 January 2008
Message 262 - Shy |
|
Hi South,
What a pleasure it is to read your New Year's pages of best wishes and hopes for a better and brighter future with our Lord Jesus Christ.
Also remembering the friends you have made over the years, it is truly wonderful to have loving and caring friends and that is how I think of you dear heart. I pray the best blessings possible for you in this New Year. May you prosper with good health and a deeper love with Jesus.
Love you, Shy



The page visited?: ALL YOUR NEW YEARS UPDATES

1 January 2008 - Greenville, North Carolina, USA
Message 263 - BARBARA MILES |
I LOVE YOUR SITE

1 January 2008 - USA
Message 264 - Vickie |
And we love and appreciate all that you do for us subscribers too!!!!
Love the poem....very special!
The page visited?: message to us

1 January 2008 - US
Message 265 - Marie |
Thank you for the nice poem.
The page visited?: A poem fot you

1 January 2008 - Maine
Message 266 - Ginny Krueger |
Each of your pages have a very special message. Thank you!!!!
The page visited?: New Year Pages

1 January 2008 - Crossville, TN
Message 267 - Mary Ronning |
Just wishing you & yours a Happy New Year and let you know once again what a blessing you are.

1 January 2008 - Superior, Wisconsin
Message 268 - John |
|
Happy New Year South!
Hope you have a most wonderful 2008 and that all your dreams and wishes come true in 2008.
((((Hugs)))), John


1 January 2008 - Shenandoah Valley, Virginia
Message 269 - Bonnie |
Best wishes for a happy and healthy New Year. Reflections of Southbreeze has given me so much joy and inspiration. God Bless
The page visited?: all of them especially the poetry

1 January 2008 - USA
Message 270 - William E. Turner / Evelyn Buchwald |
Thank you for a wonderful year of blessings in songs and poetry. Our best to Southbreeze in 2008

1 January 2008 - San Antonio, Texas
Message 271 - Janice Stodola |
I wanted to wish you and yours a New year filled with many blessing from God above. I can't wait to see your pages for the new year. I so loved the ones this past year. God Bless you my friend.

1 January 2008 - USA
Message 272 - Sharon Deane |
Yours is one of the very few websites that I feel comfortable visiting because it is a caring and decent site. Thank you for giving us such a site and lots of hope.

1 January 2008 - Springfield, Missouri
Message 273 - David Macleod |
a very beautiful site...I lost my wife in 2007 and you site is very uplifting.....Thank you

1 January 2008 - Canada
Message 274 - Clarence Nishi |
Happy New Year!
Thank you very much for all the beautiful and inspirational webpages. It sure has been wonderful reading them. Hope that this year will bring good health, prosperity, and especially all the blessings from God. May He bless you 'n yours now and forever and have a glorious 2008!

1 January 2008
Message 275 - Jo Ann |
Happy New Year. I love your site...It lifts up my spirit whenever I am down..Thank you
The page visited?: Just for you

1 January 2008 - Ohio

<<< 1 2 3 4 5 6 7 8 9 10 11 12 13 14 15 16 17 18 19 20 >>>
Book installed by Jimmy