Thank you for visiting my website and taking the time to sign the guestbook.
Please visit again soon!

To order signed copy of Reflections Of Southbreeze
Click here!
Add a message : Reflections of Southbreeze
There are now 496 messages in our guestbook.
<<< 1 2 3 4 5 6 7 8 9 10 11 12 13 14 15 16 17 18 19 20 >>>
Viewing messages 226 to 250.

Message 226 - Dark Blue Knight ~ Eddie |
|
What a lovely poem written for the Poet's Desk Authors.

It is really special but I do know that all those who share poetry through the Poet's Desk do so because they have a wonderful desire to share those words they write with others.

Many of the accolades should go to you and your dedicated helpers who make the Poet's Desk a very special place to share poetry and also visit.

Thank you to all who help with the Poet's Desk.

Eddie
The page visited?: Poem for Poet's Desk Authors

5 May 2008 - Brisbane, Australia
Message 227 - Dark Blue Knight ~ Eddie |
|
Hello Evelyn,

Thank you for your pages, they are all wonderful as always and your poetry continues to be amongst the best that there is to read on the web. You have a wonderful way of writing that reaches the reader in a way that many other writers cannot do.

I loved every page but I do have to say that "Precious Friends", "What Now Lord", "The Altar" and "My Mother's Bible" are all especially wonderful poems. That is not to say your other pages are not equally as great, just that these did touch me in a special way.

Many thanks for sharing your wonderful talent and a very special thank you for you much treasured friendship.

God bless you always.

Eddie

5 May 2008 - Brisbane, Australia
Message 228 - norma |
what a fabulous website

27 April 2008
Message 229 - Cali Oliver |
I thought you were gone for the duration so glad to get this update. I loved this poem
The page visited?: The therapist

23 April 2008 - Florida
Message 230 - annette willet |
I love your site;it relaxes me after a long day.Thank you and please know my prayers are with you.
The page visited?: southbreeze

21 April 2008 - columbia,missouri
Message 231 - Dark Blue Knight ~ Eddie |
|
Hello Evelyn,

Once again it has been a real joy to come by and view your latest pages. You always create wonderful pages with beautiful words that make for very easy but meaningful reading. I certainly do think that you are one of the best writers of poetry, I have the pleasure of reading.

Isn't "Choices" so true and your very simple but powerful poem carries with it a truly wonderful message.
"Let's give the moment to our Lord,
When temptation comes our way.
Trust His strength and power,
To save us from dismay."
"When Sadness Comes" is also wonderful and we all have times of great sadness, and it is then that we must turn for help from our Lord to carry us through the difficult times when we perhaps do not understand why things are the way that they have been.
"Smiling Through The Tears" really made me think very much of myself during those days when depression sets in and I begin to ask why I am even here. It is then that I just take a moment to pray and although the smile may take a while in coming, it does arrive and once again the tears are left behind.
Thank you my friend for your very special pages.

God bless.


Eddie
The page visited?: Updates Pages Sent - 8th April

12 April 2008 - Brisbane, Australia
Message 232 - Dave |
|
Yup.. I see a granddaughter in this poem... well done Evelyn.. Well done! Thanks so much for your continued gifts in word.
The page visited?: The perfect dress

9 April 2008 - California
Message 233 - Mystik |
|
Hi Southbreeze,
First, I'm grateful for God giving you some precious gifts; Two, grateful that you choose to share those gifts with us!! I have been most blessed viewing your beautiful site and various pages of inspiring poetry. Keep up the wonderful work. God's continued blessings on you, dear one.
The page visited?: multiple pages

9 April 2008 - Midwest, U.S.A.
Message 234 - Sondra |
Hello South, Oh my goodness I surely did love everyone of your poems.My favorite is the one with the girl going to the Prom, just very sweet. Reminds me of those days myself. Your Poems have been and still are very very special to me; no one can write poetry like you do South, everyone is precious and quite beautifully written. I love you,
Sondra
The page visited?: Your Latest Update of Poems

7 April 2008 - Indiana
Message 235 - John |
|
Hi South and Happy Easter,
Wishing you and yours, this very special morning, a happy blessed Easter.
Hugs, John


23 March 2008 - Shenandoah Valley, Virginia
Message 236 - Shy |
|
Dear Evelyn,
Thank you so much for sharing all the beautiful Easter poems and pages. They are all so wonderfully written telling about the Amazing Grace that our Lord and Savior extended to us by His death at Calvary. How marvelous to have the assurance that we will live with Him eternally in His kingdom when life on this earth is done. Also for the poem you wrote for your daughter's birthday.

Thank you too for your heartwarming condolences for the loss of my sister and for your prayers. You are a cherished friend and I thank the Lord above for you.

God bless, love you, Shy





The page visited?: All Easter pages and the Birthday poem for your daughter

23 March 2008 - Greenville, North Carolina, USA
Message 237 - Tom Lee |
My Saviour is so beautiful- brings tears to my eyes to think someone loved me so much he died for me - this Man I must see -in case you do not know he is JESUS-
TOM
The page visited?: Mt Saviour

22 March 2008 - Rockport , Texas
Message 238 - Dark Blue Knight ~ Eddie |
|
Hello Evelyn,

Thank you so much for your latest wonderful pages, they are all very special as only you can make them. Your writing is simply beautiful and any lover of poetry would certainly enjoy all the time they would spend going through your site.

You always choose the most wonderful graphics and music to highlight your words as well.

I loved "A Magical Place" and we all have our dreams of a special place with a very special person, but I have found that sometimes that very special place is simply in one's own home and we do not have to go far at all.

"All I Need" is also lovely and how wonderful to have that someone who really does give all one needs. It just makes life that little bit extra special.

I could feel the beauty of the dream that is "Magic Wonderland", it really is a special place when you find it and knowing that we are in His care makes it so much better.

I think we all say "Someday", but if that some day is looking back at a special love, then it certainly is worth the wait. There is nothing more special than caring for someone and knowing they care for you. We all have so much love to give and all we have to learn to do is to give it to others. Loved the smoke ring effect you used as well and will admit I copied the script. If I ever use it I will give Kurt Grigg credit.

Well it is nearly Easter once again as we firstly remember the suffering of our Lord on Good Friday and then the glorious day that was the resurrection on that first Easter Sunday. May I wish you a very Happy and safe Easter.

God bless you my friend.

Eddie



The page visited?: Latest Updates Pages

15 March 2008 - Brisbane, Australia
Message 239 - Mary |
|


I have had a wonderful time visiting your website, and would like to invite you
to join us at WebTown Website Competition. WebTown is a friendly community with both a vote exchange
and a NON vote exchange competition as well a topsite, a pet contest and a vote request group plus much more.
Come by for a visit, I would love to see you there.
Spirited Hugs
Mary,
Proud Member of Webtown



The page visited?: I have been reading the pages in your Friendship sectiom

12 March 2008 - Missouri
Message 240 - Shirley Garofalo |
Always enjoy reading your poems and the music is great. GOD bless you.

10 March 2008 - Michigan
Message 241 - June |
|
Hello South,
I just wanted to stop by and tell you how much I love the pages you send me. One of my sweet friends is Joyce Geyer. A great Poet. I also write poems and have them posted on another poets page. Thank you for the wonderful pages you send me. I also know Andrea.
hugs,
June



The page visited?: Some of them. But I will be back again

9 March 2008 - born in Pa. raised in N.J. living in South Carolina
Message 242 - Carol G (Cali) Oliver |
|
:I loved the poetry on this site and feel privileged to see mine there. Thank you Southbreeze for this honor :
The page visited?: all

9 March 2008 - Florida
Message 243 - jennifer |
i love the poems on this site i have looked at this site since i was16 and im now 21!

9 March 2008 - ohio
Message 244 - Julie |
|
Absolutely stunning . . . your pages are breathtaking, so perfect, and there is something for EVERYBODY. Thank you soooo much, you have made my day.
The page visited?: Most of them

1 March 2008 - The Land Down Under !! G'day G'day
Message 245 - Melva |
|
Hello Sweet Lady,
I wanted to stop in and wish you a beautiful Sunday evening...And thank you for the wonderful update you sent out this time...Your words of poetry touch my heart, I love your poems....Your words about our Savour always makes me look toward Him and be so thankful that I belong to Him...
Thank you again for sharing your heart through your poetry....
I love you precious friend,
Melva
The page visited?: Update

2 March 2008 - USA
Message 246 - Dark Blue Knight ~ Eddie |
|
Hello Evelyn,

Thank you for your wonderful pages sent in your latest Updates mail. As always I do think that you are one of the best and most gifted writers that share their writings with us all and once again I have not been disappointed.

Your beautiful words are filled with great inspiration for us all and one could easily read these over and over again.

I think that everyone of us are sometimes burdened with troubles and need a place to rest. Asking our Father to help us carry that load always makes it seem so much lighter if we only have the faith that is needed. Sadly many seem to only turn to God when something goes totally wrong and then they seem to question "Why Me?" instead of asking for help along the way.

Wouldn't it be wonderful if many more would try to shine a light for the Lord and try to be like a shining star to help lead others who may have difficulty in finding their way.

Prayer is such a powerful thing and I don't think there is anything better than having someone pray for you. It is a very special thing and I know that all prayers are heard, so if others simply do listen, they will find that they will find a way especially if their burdens seem to be a bit more than they can handle.

You have a wonderful way with words and your messages are always so clear for those who visit and read your poetry. May God bless you for your wonderful work and allow you to continue to reach out and touch others in your own special way.


Eddie



The page visited?: Updates Pages - 26th Feb

28 February 2008 - Brisbane, Australia
Message 247 - Mikki |
|
Hi Evelyn,
Your site is just beautiful. I sure have enjoyed my visit!!!! I have been coming here for years!!!
Mikki
The page visited?: quite a few of them

26 February 2008 - Baltimore, Ohio
Message 248 - Betty |
|
Your site is so beautiful ...tastefully rich and lavish in color and design. I love your layout...and music that seems to really be a part of the poetry I read. I Said A Prayer For You is so moving. Betty
The page visited?: I Said A Prayer For You and others

16 February 2008 - USA
Message 249 - Dark Blue Knight ~ Eddie |
|
Hello Evelyn,

Sorry it has been so long in getting here again, I have once again got so far behind that I have so many Updates to catch up with I wonder if I will ever get back to being on time.

What beautiful Valentines Pages you have sent out, they are all so lovely and I love it that you did remember Sam as well.

Every page had its own special something and I am sure that they were sent out to many for their own special Valentine.

Also enjoyed calling by The Poet's Desk again and read the beautiful poetry that you have there.

Unfortunately I am still unable to sign the Guest Book at The Poet's Desk, I have no idea why it blocks me but it will not accept my posts.

I hope all is well with you and things are looking bright for the year. I haven't done much writing myself lately, but hopefully will get the drive soon to write something new. I hope to be sending an Update for my site sometime in the next week so I hope you will call by then.

God bless.


Eddie
The page visited?: Valentines Pages & Poet's Desk

16 February 2008 - Brisbane, Australia
Message 250 - Andrea/Kentucky_Lady4 |
|
Evelyn,
Visits here area always heart warming and it is an honor to have you as a dear friend.

Wishing you and yours a very Happy Valentine's Day!! God bless each of you!!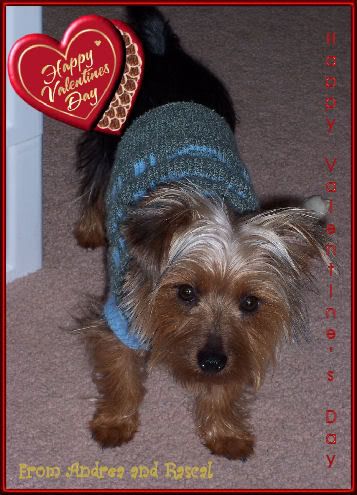 The page visited?: Several...

14 February 2008 - KY, USA

<<< 1 2 3 4 5 6 7 8 9 10 11 12 13 14 15 16 17 18 19 20 >>>
Book installed by Jimmy